Upon entering Lost Lake or Smugglers' Cove, we are overwhelmed with nostalgia. Nostalgia for a time that we didn't experience, and for a place that has never really existed.

The Tiki movement is built upon this sense of escapist fiction and island-style amalgamation. But, within this rum-fueled world of make-believe, the Tiki movement has a very real, and very logical, place in the canon of American drunkenness. Today, we are going to take a look at Tiki's founder, where Tiki is today, and what it means to us.

In these types of stories, there are a lot of 'allegedlys' and 'supposedlys'. But, in this particular instance, most agree that the invention of the Tiki bar came from a man named Don the Beachcomber. Born Ernest Raymond Beaumont Gantt in 1907, he grew up right in the middle of prohibition. By his own (we should say dubious) account, Don's grandfather was a smuggler and bootlegger. By tagging along with his grandfather, Don spent time in the Caribbean and the South Pacific...presumably learning how to drink heavily along the way.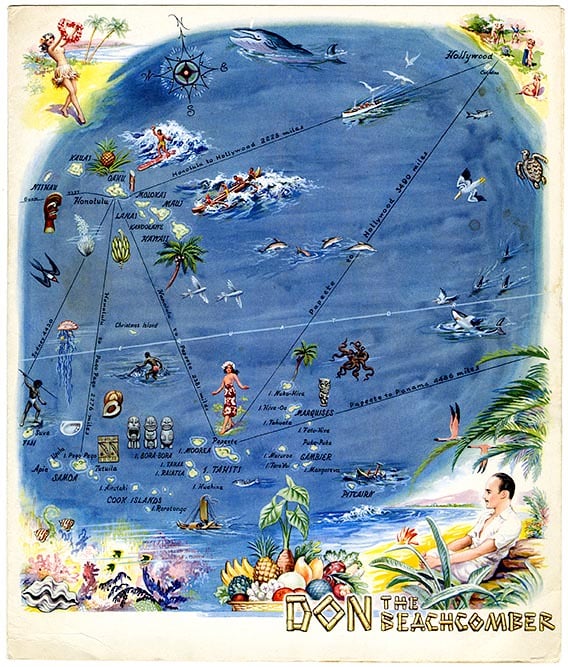 Image courtesy of the California Historical Society

At the end of prohibition, Don decided it was time to go legit. Inspired by his boozy adventures in the South Pacific and the Caribbean, he opened up a bar in Hollywood, California, called "Don's Beachcomber" -- later it would be changed slightly to "Don the Beachcomber". Despite the cultural mishmash that decorated his bar, Don kept traces of authenticity -- the bar was strewn with used fishing nets, old driftwood, and abandoned (but real) nautical paraphernalia.


The drink list was where the bar built its legacy. The atmosphere was fine and good (great even), but with a rum and fruit laden cocktail menu, Don unknowingly became the founder of a new movement within the American bar scene. A few examples of drinks generally credited to Don: the Zombie, the Cobra's Fang, the Tahitian Punch, Three Dots and a Dash, and Navy Grog. While the bar may have had a veneer of enjoyable tackiness, the drinks were anything but gimmicky. They were complex, layered drinks that were expertly conceptualized and executed.

All in all, the bar was a resounding success -- so much so that Ernest Raymond Beaumont Gantt legally changed his name to "Donn Beach." Americans flocked to the bar in droves, pursuing the rum-fueled, escapist fantasyland that Don was happy to deliver. The bar was a hotspot for Hollywood celebrities like Bing Crosby, Marlene Dietrich, and Clark Gable.

After the success of Donn Beach's bar, the Tiki craze began to spread. One of the most notable examples was Trader Vic's, an Oakland-based Tiki bar founded by Victor Bergeron. Originally opened as Hinky Dink, the business-savvy Bergeron eventually re-branded and became Donn's fiercest rival.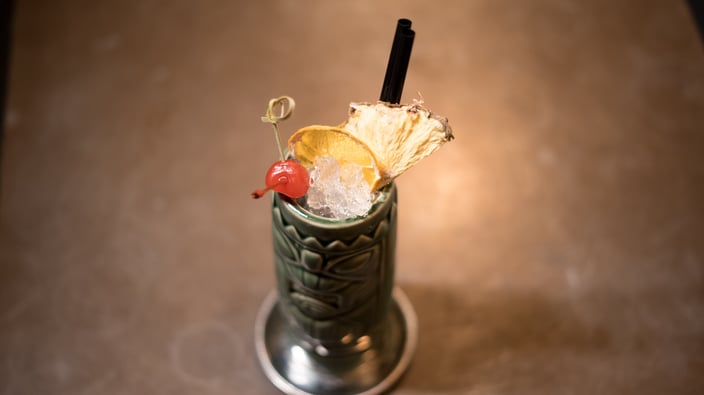 A traditional tiki cocktail.

Between Trader Vic's and Don the Beachcomber, Tiki took America by storm. Over the next thirty years, Tiki bars have opened in nearly every city in America, offering Americans a tropical escape from the world around them. Tiki Bars were not associated with any sense of intentional tackiness, but instead seen as highbrow establishments for a fun, adult night out. Sven Kirsten, author of The Book of Tiki, perhaps said it best when he called Tiki Bars "the emotional bomb shelter of the Atomic Age."

Tiki thrived until the 1970s, when the ever-changing zeitgeist demanded something new from the American bar scene.

Perhaps it was Tiki fatigue, or just generally shifting consumer taste...Some have pointed to the rise of the Disco era, and others have even credited the popularity of LSD and recreational drug use in the 60s -- perhaps people just no longer got their kicks from drinking. In any case, Tiki seemed decidedly 'out' when the 70s came around.

Tiki would continue to sit in the doldrums for thirty odd years, until now. For us, it makes sense. Today, the goings-on of the world are inescapable. We aren't saying anything new to proclaim that our problems seem to follow us incessantly. Through the advents of social media and the smartphone, anxiety and tension seem to be at an all- time high.

We won't say that a good Tiki Bar will solve everything, but it might help.


Cocktails from Lost Lake in Chicago, IL

Martin Cate, founder of Smuggler's Cove, would agree. When Cate opened Smuggler's Cove in 2009, it became the breath of fresh air that Tiki needed. Others, like Chicago's Lost Lake and Three Dots and a Dash, have helped to redefine and re-brand the Tiki concept.

These new Tiki bars are looked at as legitimate, tasteful concepts fueled by an uncompromising focus on mixology. With daringly complex cocktails and a kitschy sense of cool, Tiki is absolutely back.

So what's that mean to you?

As industry folk, it's always good to keep on top of trends. The good news is that you don't have to overhaul your bar to embrace the new Tiki wave. By keeping it simple, and sticking to the Tiki classics, a little Tiki won't seem out of place -- even on the most "Mad Men" styled menus out there.

Our first (and probably most obvious) suggestion? Bring on the rum. Alongside the Tiki boom, rum is experiencing an absolute revival. By incorporating a fruit-forward, funky spirit like Smith and Cross Traditional Jamaican Rum, you can add just the right amount of Tiki without having to go full Beachcomber.

Another strategy is to incorporate fresh, tropical fruit juices -- think pineapple and coconut. We're not saying you have to start blending Piña Coladas every night, but it's a great side of Tiki to subtly incorporate. Putting Tiki-style riffs on classic drinks is a great option here. Add a little pineapple to that daiquiri. Throw some mango in your bellini. Get weird.

Let's say you want some Tiki, but your bar takes a beer-focused stance. Lucky for you, Tiki flavors have popped up in the craft beer scene as well. Founders brewery has aged their Barrel Runner beer in former rum barrels, for an interesting take on Tiki-style beer.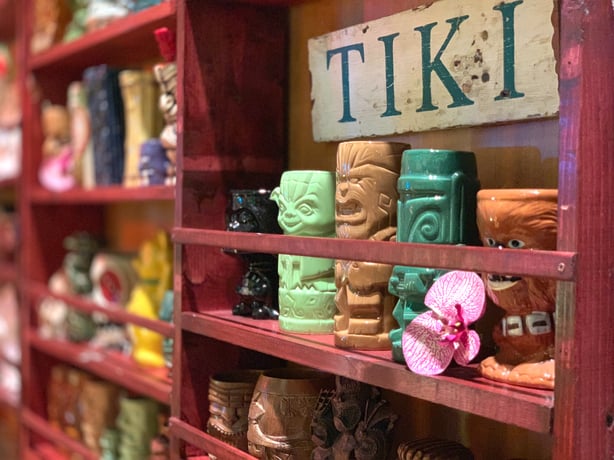 Whatever your bar looks like, we're sure there's room for a little Tiki.

So there you have it -- Tiki in America. Certainly the movement has seen its ebbs and flows, like anything. But over half a century since its inception, the nation's leading bartenders are learning to adapt Tiki into an ever-present force. Going full Tiki may not be for everyone, but incorporating some Tiki influence is never a bad plan, especially in the warmer months.

One thing's for sure...this summer, you can find us at Lost Lake, here in Chicago.