A deep dive into the underground artisan ice scene. And it's hotter than you think.
Who's to say a cocktail has to end after a fancy goblet or exotic garnish? Why not go one step further. Why not complete it with a thick block of artisan ice.

"The one thing I find tacky is when you are at an upper-scale establishment and the rock they pour your spirit on is cloudy, which means it came from a mold and is a product of rapid freeze," Paul Shamrock said to The Takeout. Shamrock owns and operates a cocktail club in Seattle called The Stampede and serves up visually beautiful beverages, but never without his artisanal ice. He is a firm believer that we've entered the second golden age of cocktails, and that ice is a huge part of it.

Everyday ice is muddied up by impurities and air bubbles which may seem inconsequential, but when it comes to a $15 dollar cocktail, it's a different story. Whether your bar is into cracked, crushed or pebbled, ice has more impact on the drink than you think. Even shape plays a vital factor. Large cubes? Those pair well with negronis. Crushed Ice? Tiki drinks and mint juleps.

Much like a fine diamond— clarity, cut, density and size are all deciding factors when it comes to judging artisan ice. And when placed in a cocktail, it melts significantly slower to ensure the drink is diluted perfectly, while keeping it cold and visually appealing for longer. Too much dilution and you've tainted a perfectly good rye whiskey.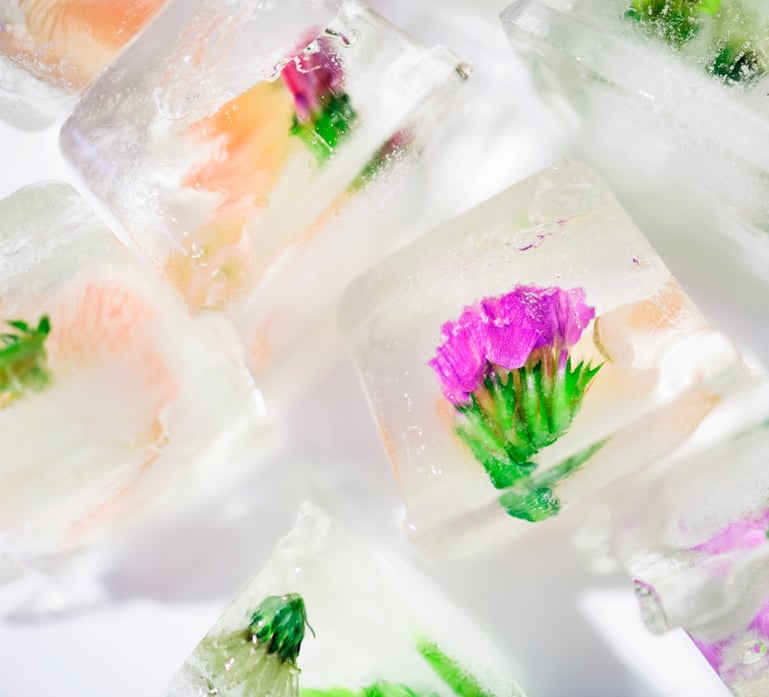 "The ice you dilute cocktails with is about half of the cocktail, so if it's bad, the whole cocktail is ruined," Micah Melton said to the Eater. Melton is the Beverage Director at The Aviary in Chicago's famed Fulton Market neighborhood. He utilizes 38 different flavors, shapes and sizes of ice, all made in-house, in what is considered Chicago's first bar to implement a serious ice program.

Melton uses a machine called a Clinebell, which most artisanal ice cubes are made from. It's the same thing that forms the blocks of ice that are eventually carved into sculptures for weddings or quinceaneras. And unlike how natural ice is formed, the clinebell cools from the bottom, forming blocks in a springform pan that expands to prevent cracks and fissures. The ice doesn't just form overnight. It takes about two and a half days to produce two, 300 pound blocks. The Aviary goes through four blocks a week. Retail price can cost up to $125 per block, making the financial gain of an in-house ice program significant.

From the springform pan, the ice is then lifted by crane and left to acclimate to room temperature so it can be cut into varying shapes and sizes. The ending result is more dense and more clear than anything you've ever found lying around in your kitchen freezer.

Most restaurants simply don't have the space to maintain an in-house ice program, which is where Just Ice comes in. Just Ice is a Chicago-based company that specializes in the artisanal ice movement. Founded by Rosanna Lloyd and Mike Ryan, the company supplies ice to over 80 restaurants, bars and hotels throughout Chicagoland. Prices range from $6.50 for a bag of ten ice spears to $35 for a bag of ten ice globes.

And while the price may be steep, Ryan thinks it's worth it. "The visual aesthetic of the ice creates a 'value-added' driver for the operator—if you place two identical Old Fashioned cocktails in front of someone, one on regular ice and one on a solid cube, they will almost always opt for the more visually appealing option—the large, clear ice," Ryan said to the Eater.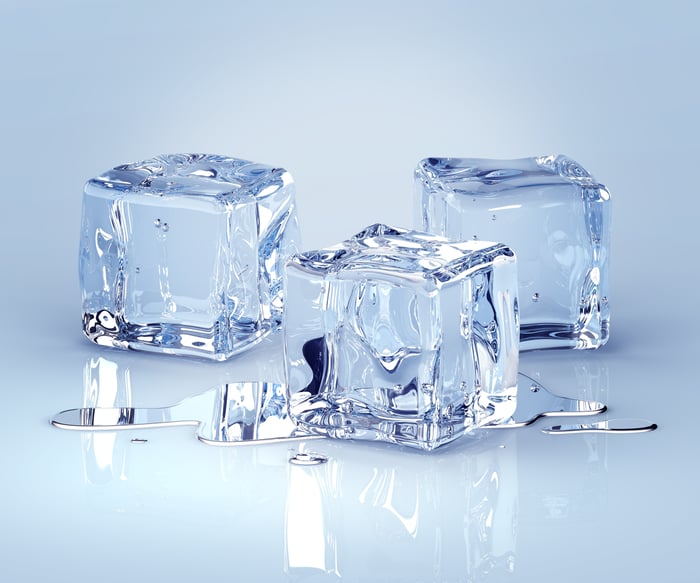 Some accounts that use Just Ice include Three Dots and a Dash, Sable and DrumBar--all Chicago favorites. And according to Lloyd, it's not uncommon for her to hear of cocktail sales increasing after switching to Just Ice.

When it comes to incorporating craft ice into your beverage program, there is plenty of room for experimentation. Benjamin Schiller, lead bartender at The Sixth in Chicago, is continually outdoing himself. Doris, a cocktail that made its way on the menu several years ago included craft ice that had been frozen around a single rose, giving the appearance of a floating flower. The drink was named after his grandmother, an avid gardener.
Today he serves a wildly vibrant cocktail called the 'Silly Rabbit,' inspired by Trix cereal, of course. The drink is served in a highball glass with four colorful cubes stacked inside--each a different flavor. Alongside the glass comes a carafe filled with lime juice, soda, house-made mint bitters, and gin. You simply pour the liquid over the ice cubes and wait for the flavors to melt and slowly fuse into the drink. The result? A delicious, instagrammable delight.


At The Aviary, artisan ice takes on an elevated art form with their signature drink called In The Rocks. The drink is served with a hollow, egg-shaped piece of ice that guests crack open with a slingshot to reveal their drink inside. And The Aviary doesn't just limited artisan ice to cocktails. Inside every glass of water is hand-cut shards of craft ice.

Bottlefork Bar and Kitchen in Chicago's River North neighborhood is serving up a cocktail with a side of comedy. Their drink, Bill Brasky, is aptly named after a Saturday Night Live character and comes with a huge ice cube frozen around a vintage playing card.

The craft ice movement is showing no signs of cooling down. Are you considering adding craft ice to your beverage program? Do you know someone who successfully has? Tell us in the comments below!