Summer's coming! It's time to swap out some of that heavy, dark stuff for some lighter, more refreshing options behind the bar. Here we've gone through ten of our best summer spirits that can keep you (and your patrons) cool this year.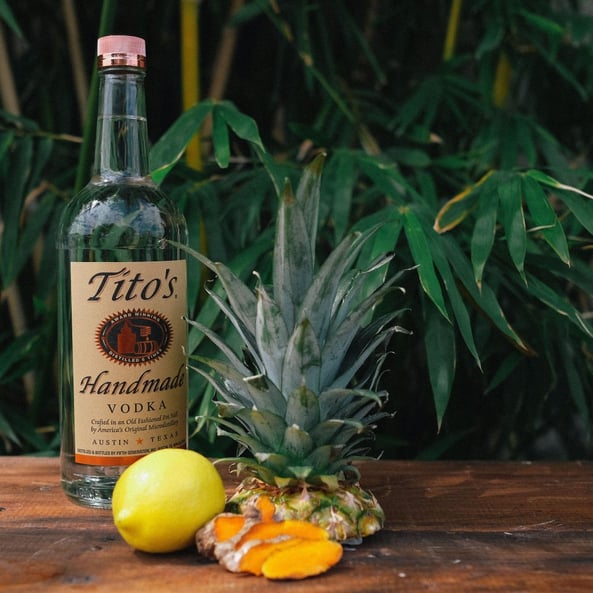 All the makings for a yummy, tropical turmeric infusion. Recipe here! Image courtesy of Tito's.
This isn't the first time we've talked Tito's. But hey, sometimes, things are just that good. We're sure you know the story -- handmade in Austin, all that jazz. If we here at Provi were building a Mount Rushmore of American-made spirits, Tito's is probably a shoo-in. This vodka is an absolute classic for us, and maybe our favorite for a nice Moscow Mule. Pro tip for you restaurateurs out there: Moscow Mules are great as batched cocktails, perfect to easily serve up in the middle of hot summer service.


As far as we can tell, nothing says 'brunch' like a St. Germain cocktail. The French liqueur is made from the floral-sweet elderflower plant, which can only be harvested for a few weeks out of the year. The liqueur has a strikingly unique flavor profile, seeming to land somewhere between peach and rose. There are about a thousand ways to use St. Germain in a cocktail this summer, each brighter and more seasonally-apt than the last. Some of our favorites? Throw some on top of a glass of rosé, or use St. Germain in place of simple syrup in a daiquiri.
An easy pick for our go-to summer gin, Hendrick's features the rare combination of big-name brand and big flavor. Often, large companies can take a 'quantity over quality' approach, but that isn't the case with Hendricks. Featuring a bomb of cucumber and rose flavor, Hendricks gin is the perfect, light companion to your next summer soiree. Or, if you want to get even deeper, we'd point towards the limited-release Midsummer Solstice variety. This small-batch release from Hendrick's dials up the floral essences, in celebration of the summer. From where we're standing, it seems like a mighty fine companion to the aforementioned St. Germain.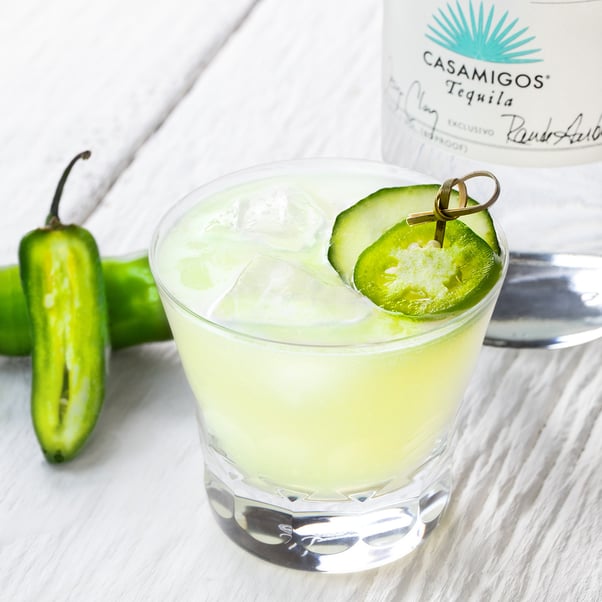 If George makes it, we want it. This cucumber jalapeno margita is just what the doctor ordered. Recipe here! Image courtesy of Casamigos
Celebrity booze tends to be very 'hit and miss'. In fact, we'd venture to say that it's typically more miss than hit. And while George Clooney and Co. haven't made the absolute finest sipping tequila in the land, Casamigos is absolutely our pick for a nice margarita this summer. Casamigos has all-but taken over the tequila market in 2019, and for good reason. It's smooth, well-priced, and matches up perfectly to whatever drink you need to mix. Or, if you want to have some real fun with it this summer, give house-made tequila popsicles a go! Throw some Casamigos in with your favorite fruity concoction, toss a popsicle stick in it, and let the freezer do the work!
We know -- when you think summer booze, a heavy, dark bourbon isn't the first thing that comes to mind. But Maker's Mark is an American classic, and there's nothing better in the summer than a fine mint julep. Maker's features a pleasantly bold flavor, plenty pronounced enough to stand up to the minty sweetness of the classic julep. That being said, we're always down for something new. For example, an elderflower old fashioned is a great way to bring a couple summer spirits to life -- just sub out the sugar cube in your old fashioned for a dash of elderflower liqueur.
Hendrick's is a great gin -- there's no doubt about it. But, it does (by the brand's own admission) have a rather forward flavor, and is very pronounced in any cocktail where its used. For some, that reads as nothing but a good thing. But other folks might be looking for a more mellow gin. Tanqueray London Dry Gin brings a citrus-tinged, but generally clean flavor that is happy to sit in the background of your cocktail this summer. If you're looking for that classic, timeless Gin and Tonic flavor, we're going to point to Tanqueray every time.
There are probably hundreds and thousands of different flavors of vodka on the market today. It's hard to imagine where one would begin to pick out the best from the worst, or the handiest from the most useless. Well, if we had to pick a single flavored vodka to bring into summer 2019, it would be Effen Cucumber Vodka, without a doubt. This delicately flavored vodka adds an interesting, crisp flavor to a classic Vodka Tonic, or you can use it to bump up your next Moscow Mule. The light, refreshing cucumber flavor is a perfect companion to any summer cocktail you may be dreaming up this year, and we couldn't be more behind it.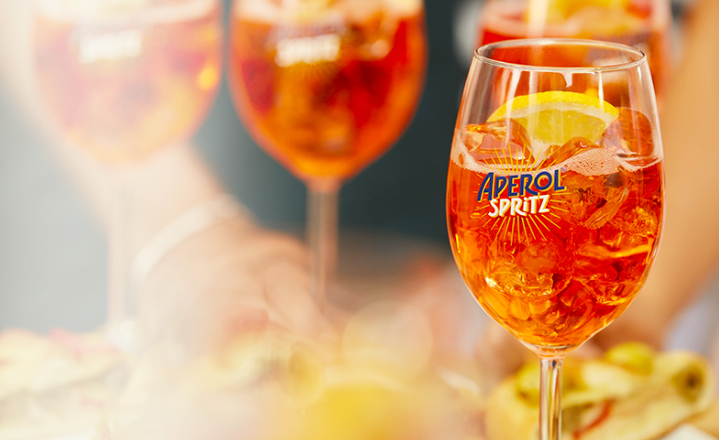 Admit it, you're thirsty. Image courtesy of Aperol

It's no secret that the Aperol Spritz has become a cocktail du jour in recent years. Easy drinking, and perfectly refreshing on a warm spring or summer day, we find it hard to argue with the Italian classic. For the uninitiated, Aperol is a light Italian liqueur made of bitter orange, gentian, rhubarb and an array of other herbs and roots. The classic Aperol Spritz is a simple and delightful drink, always welcome at a mid-morning brunch: three parts Aperol, two parts Prosecco, one part soda over ice with an orange twist. Our tip? Sub rosé in for the Prosecco, and you've got a winner.
A summer without a mojito is no summer for us. Plantation's 3 Star White Rum is an upgrade on standard Bacardi fare, bringing a light, fruity sweetness to the white rum genre. If you want to dress up a rum cocktail this summer, all signs are pointing this way. Plantation 3 Star features a bright, crisp blend of rums from Barbados, Jamaica and Trinidad. The reserved but sweet flavor plays well with just about anything you have in mind this summer, but we'd suggest riffs on daiquiris, mai tais, and mojitos!
Banhez Mezcal Joven Espadin & Barril
Fine tequilas and mezcals have really taken off over the past couple years. This Banhez offering is made from a blend of 90% agave Espadin and 10% agave Barril, which creates a rich, fruity flavor profile that is just perfect for casual summer sipping. What's more, this Mezcal doesn't just taste good, it does good too: Banhez Mezcal is created by a co-op of families from various villages in the Ejutla district of Oaxaca. There, they use traditional production methods including wood-fired pits, donkey-pulled tahonas, and wooden fermentation tanks. The result is a fantastic Mezcal that is enjoyable when sipped neat, but mixes well into any number of cocktails. Paloma, anyone?