We're just going to get this out of the way: rosé is likely here to stay (for a while).
It's hard to imagine a bigger crossover star than what rosé has become in recent years. The wine has swiftly moved from the exclusive lexicon of Somms, and into our Instagram explore pages. In the past few years, we have been absolutely inundated with rosé.
But that said, young drinkers are always on the lookout for something new. So, while rosé might not disappear off the map, it's not going to be the 'hot new thing' forever. Here, we are going to look at a few wine trends could take the title from rosé in coming years.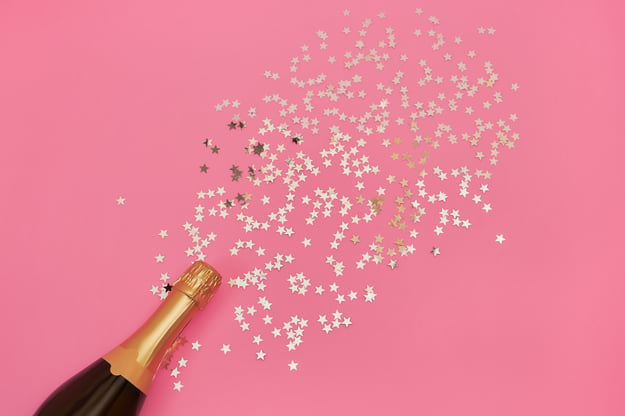 Pop a bottle of bubbly and get the summer started!
Sparkling Wine
Over the past year or so, sparkling wines have really started to bubble up (oof). The numbers speak for themselves. According to Wine-Searcher, rosé has been up an unsurprising 69 percent year-over-year, while sparkling rosé has been up a full 100 percent. So, even amongst the hottest rosé, the bubbles are rising to the top (double oof).

Millennials are shying away from their parents' sparkling varieties, though. Champagne is often seen as boring or passé. Younger drinkers have more interest in prosecco or other, more casual sparkling wines. According to that same report in Wine-Searcher, sparkling wine growth is up by double digit numbers, with the 'sub-champagne' category taking up most of that growth space. And there's no better time to stock up on a little bit of bubbly, with National Prosecco Day right around the corner on August 13th.

Within the bubbly bracket, we're calling Pét-Nat (short for pétillant naturel) as our dark-horse pick. While we won't call it the 'new rosé', it's certainly poised to compete in the current market. Pét-Nat is a naturally sparkling wine, and ticks all the boxes for modern drinkers: natural, lightweight, and complete with a cute name. Also, with red, white, and rosé options, Pét-Nat fits right in with the 'if you like rosé, try this…' approach. Drinkers are constantly looking for new, undiscovered wines, so Pét-Nat could slot in perfectly in 2019 and beyond. It lacks any of the 'brand baggage' that prosecco or champagne would need to overcome, and is available at a millennial-friendly price point.

One of our favorite wine trends: canned wine.
Canned Wines
While not a direct replacement, this new way of enjoying wine has been gaining steam in 2018, and we don't see that slowing down. Canned wine is perfect for a more casual drinking experience. The bad juju associated with cans have been entirely erased in the craft beer space, and we see that happening with wine as well. In fact, David Weitzenhoffer gave Forbes some pretty convincing numbers last December -- The Stupendous Cellars Manager said that canned wine experienced nearly 50 percent growth last year, and is slated to be a 50 million dollar industry in 2019.
For us in the restaurant biz, canned wines are a great way to offer our guests something new. In a more casual, stripped-back setting, it's hard to justify stocking wine. You'll need to bring in bulky bottles and delicate glasses, and then find somewhere to keep it all. Canned wines bring a stackable, storable, and easy-to-manage option from the business side of things. And from the guests' perspective, drinking wine from cans makes for a more casual, fun beverage.
Our favorite canned wine goes to Union Wine's Underwood. With a snarky, 'pinkies down' branding effort, the company is doing their fair share to take a more casual approach to drinking wine. Their ethos fits right in with our impressions of canned wine in 2019. But as always, the proof is in the pudding. After some - er - research, we found their riesling to be endlessly refreshing and enjoyable.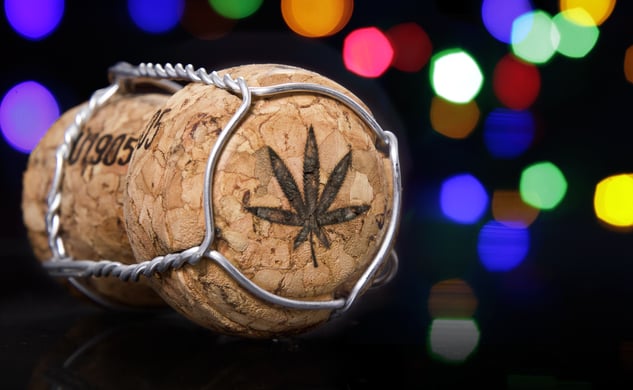 Canna-wine, coming to a store near you.
CBD-Infused Wines
We spoke last year about CBD and its increasing relevance in the cocktail game, and we don't see that slowing down. Next stop? Wine. Looking at it from a pretty simplistic perspective, the Cannabis/Wine merger is a no-brainer. In California, they make wine. Also in California, they grow weed (legally).
Once again, though, the proof is in the pudding. Last year, beer and wine heavy hitters, Constellation Brands, invested four billion dollars in Canopy Growth, a Canada-Based Weed Producer. The company stated its position on Canopy Growth was "extremely bullish, if not more".
A handful of CBD-based wineries have come into existence recently, including Rebel Coast Winery and Cannawine. The two producers offer different approaches to the Cannabis/Wine intersection. Rebel Coast offers an alcohol-free wine, instead infusing their product with THC for an alternative source of entertainment. On the other hand, Cannawine infuses non-psychoactive CBD into their standard ABV wines, creating a traditional wine with a contemporary kick.


While there is some legal legwork to do for sure, we expect CBD wine to be one of the up and comers of 2019 and beyond. As far as we can tell, now's the time to get in.


When it's All Said and Done...


We maintain that rosé probably isn't going to disappear anytime soon -- for better or for worse. After all, the light pink wine has been around for literally hundreds of years -- but that's a story for another time. In the current zeitgeist, though, consumers are constantly looking for newer wine trends. And there's a few options that are looking good in the wine space these days. As always, we'd suggest getting in while the getting is good.


Now if you'll excuse us, we've got a can of riesling calling our name...