Certainly, there was once a time when good whiskey came exclusively from Scotland, Ireland, or America's heartland, but that era has come and gone. Over the past decade, Japan has risen to prominence within the whiskey-drinking world. The rise of Japanese whiskey has been nothing short of meteoric. Once virtually unknown-names like Yamazaki and Hibiki have swiftly inserted themselves into the lexicon of spirit-drinkers and industry professionals worldwide, with no signs of slowing down...until now. Over the past couple of years, Japan's top whiskey producers are discontinuing products left, right, and center. The results are turning out to be quite disastrous, and have left many of us wondering: "What happened?"
To understand the current climate of the Japanese whiskey industry, it's best to start at the very beginning. Japanese whiskey is not a recent invention in any sense of the word. Instead, it's the exportation of Japanese whiskey that is a relatively new idea. Long before Japanese whiskey found its current in-vogue status, the country was producing and distilling whiskey -- as far back as 1923. Until the early to mid-2000s, though, Japanese whiskey was produced almost entirely for domestic consumption and not exportation.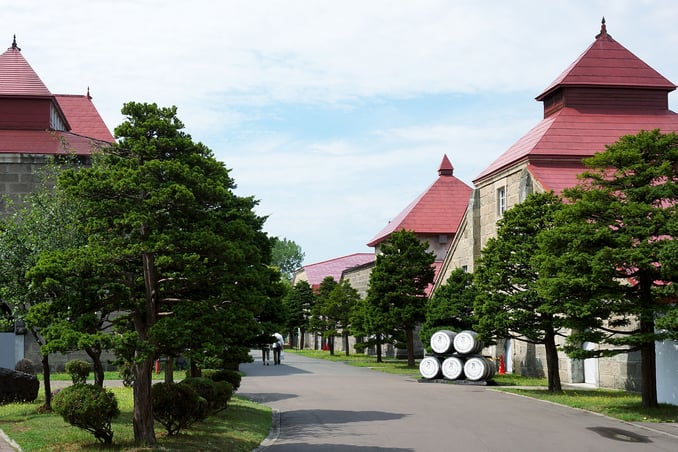 Yoichi Distillery, maker of Nikka Whisky, in Hokkaido, Japan
In the early and mid-2000s, Japanese whiskey was slowly making a name for itself amongst those who ought to know. It was the whiskey aficionados' best-kept secret, until a Yamazaki expression won Jim Murray's World's Best Whisky award in 2014. It was a moment that shook the whiskey world to its core, and left many of our palates equally curious and confounded. From there, Japanese whiskey exploded into the mainstream consciousness. Alongside that in 2014, a Japanese television drama about the Nikka distillery premiered to nationwide acclaim. This surprise hit led to a revitalization of interest in whiskey amongst the Japanese population. So just as Japanese whiskey was finding a faithful international audience, it was experiencing a second wave of domestic interest as well.
Since then, Japanese distillers have run into a problem. Put simply, the supply just isn't keeping up with the demand. It may be easy for the general public to 'solve' the problem ("just make more!"), but for the spirits-savvy, we know the solution is not so simple. The inception of the supply issue actually dates back to the 1980s, when Japanese consumers had very little interest in whiskey. There were no outstanding reasons to expect a sudden change in the tides, so Japanese distillers significantly lowered production volume. In addition to producing much less unaged whiskey, these distillers also set aside fewer barrels for long-term aging.
Today, we are seeing the repercussions of that decision. All those years ago, the Japanese distillers weren't reserving huge volumes of spirit to be aged, so two decades later...the aged product simply does not exist. For example, Hibiki 17 and Hibiki 12 have both been discontinued in recent years. Nikka distillery has also discontinued many of its 'ultra-aged' offerings, replacing them with young and unaged expressions.
In addition to the lack of aged product, many people point towards Japan's love for highballs as a reason for the proverbial well running dry. We've discussed this in the past , but highballs are one of Japan's most widely available libations. Highballs can be found at just about every establishment in Japan -- even in vending machines. The combination of whiskey and soda is nearly an art form in Japan, well-revered and practiced by bartenders all across the nation. In a classic highball, high quality, aged whiskeys are often the spirit of choice. When you have a nation full of highball drinkers...well, it adds up.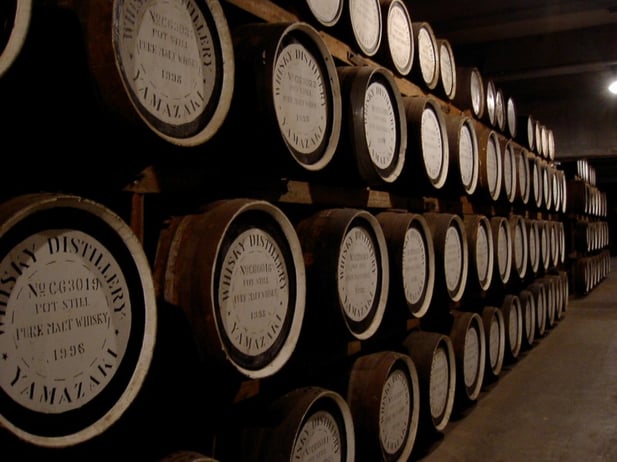 Barrels in Yamazaki distillery
Despite many Japanese distilleries operating at full capacity, there's very little that can be done about the shortage. Many producers and industry experts give an estimate of ten years before the market has fully recovered. The situation is so dire, in fact, that Nikka Distillery's international business manager Emiko Kaji is quoted as saying:
"Although we are distilling at full capacity, we do not have enough whisky well matured yet. Most products are highly allocated in all markets. We do not have any tangible plan to reintroduce new age statements."
Yikes.
So, what does this mean for you and your patrons? As we stated before, these distilleries are rolling out unaged and no-age-statement whiskeys in place of their premium products. Unsurprisingly, the results have not been great. Some of these new spirits are delicious, sure. But a lot have simply been sub-par, creating a mixed bag (at best) of choices for the modern whiskey consumer. As the market becomes a veritable minefield full of forgettable and downright bad products, whiskey drinkers become less willing to risk their cash on the unknown. If this trend continues, patrons may think twice before ordering a Japanese whiskey from your menu on a night out.
But wait...there's been another, shadier consequence of the whiskey crisis.
The idea of producers sourcing whiskey is an open-secret for those of us in the know. But what if that meant your "Japanese" whiskey is actually made in America? Well, as a "solution" to the diminishing Japanese whiskey stocks, American and foreign whiskeys are being imported to Japan to be used in blended bottles.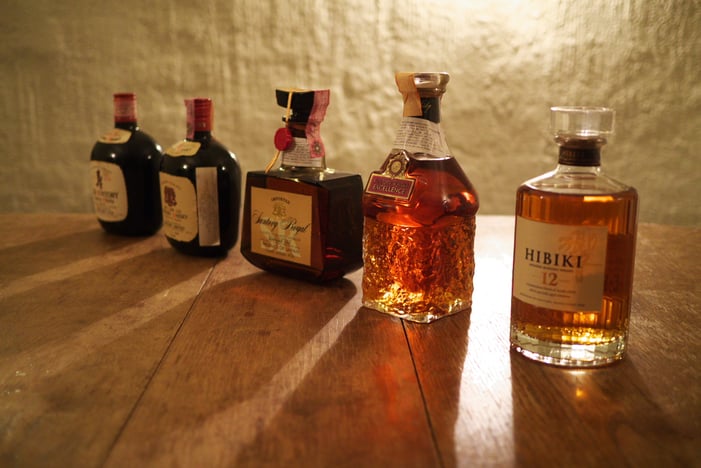 A lineup of Suntory whiskey bottles
So that aged Nikka blend of "Japanese" whiskey you're looking at? It could have any amount of Scotch or American spirit in the bottle, and there's not a single Japanese law requiring that to be disclosed. You read that right. While American, Canadian, and Scottish laws are extremely strict about what can be called a whisk(e)y, Japan has no such regulations on the books. A Japanese distiller could almost put anything they want in a bottle and label it whiskey.
There's very little in the way of redeeming news here, we're sorry to say. The struggle of Japan's major whiskey distilleries could spell good news for smaller, craft producers in Japan, but only time will tell. From our point of view as restauranteurs and bar-owners, the shortage may present an opportunity to sell our Japanese options for a higher markup, but that's little more than a short-term consolation prize.
When it comes to the Japanese whiskey shortage, the term 'perfect storm' comes to mind. A series of cultural shifts and industry happenings have created a demand for Japanese whiskey that (for now) is far outweighing the supply. It's quite impossible to tell where things will be when the dust settles. But, given the rapidly shifting tide of consumer taste, Japanese distillers might be in some trouble.
Our hot take? Hold on to your Yamazaki -- it might not come around again this decade.