America's revitalized interest in cider isn't exactly a secret, and it's certainly not breaking news. Over the past decade or so, Americans have steadily and quickly come to love craft cider, starting with Angry Orchard or Strongbow, but now looking more into handmade, small-batch options. There's no shortage of ciders these days, but even the harshest critics (us included!) seem to agree: one brand stands above the rest. Virtue Cider makes old-fashioned, farmhouse-style cider with a focus on flavor and character. Since its inception in 2011, Virtue Cider has kept true to that vision, making ciders that hit with the complexity and depth of any fine wine or craft beer.


Virtue Cider founder Greg Hall worked for nearly twenty years as the Goose Island brewmaster, before the company was sold to Anheuser-Busch in 2011. Son of Goose Island founder John Hall, Greg was perfectly poised to break ground on his new venture. Around 2011, he made the simple declaration to Eater.com, perhaps serving as his mission statement:

"There's good apples here so there's no reason there shouldn't be great cider."

Hard to argue with that, Greg.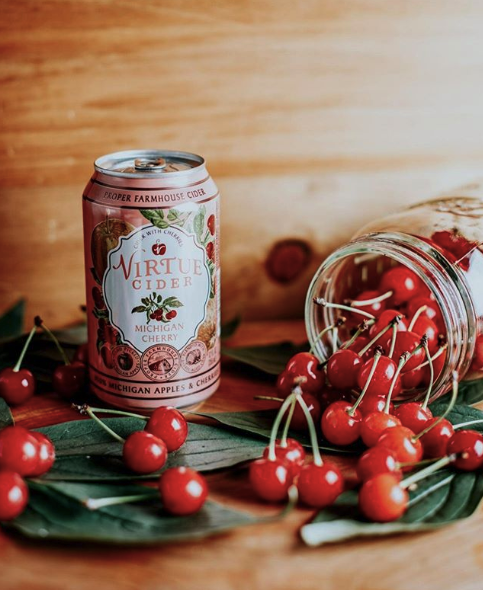 Image courtesy of Virtue Cider's instagram


In 2011, cider wasn't what it is today. While there was a bubbling interest in the beverage, America's experience with it seemed very limited. Strongbow and Angry Orchard offered their decidedly middle-of-the-road options, targeting the general populous, and not the booze aficionados that were already obsessed with craft beer. The craft beer market was already starting to suffer under its own weight, and people like Greg Hall saw cider as unexplored territory, and a potential escape hatch. He would not use a mass-appeal strategy with his cider. The recent interest in hard cider had brought Americans to familiarity with simple, sweet ciders, but Greg Hall was gunning for something else entirely: premium, craft cider.


For research and development, Hall spent time in Western Europe, observing the process and reverence given to producing a high-quality, farmhouse style cider. England and France had both undergone recent cider revolutions, with their respective markets surging as drinkers looked for beer alternatives. All the stars seemed to be aligning. Now, all Greg Hall had to do was find some great apples. Lo and behold, some of the best apples in the nation were growing right across the lake, in Michigan. In addition to the quality of apples grown in Michigan, the climate mirrored those great cider making farms and countries in England and France. Fennville, Michigan would be the home of Virtue Cider.


The process that now takes place on the Fennville farm is a decidedly old-fashioned one. There's no climate-controlling, no added sugars or corn syrups. Apart from some shiny new machines, there's very little to suggest Virtue Cider isn't still stuck in 1850 -- and we mean that as a compliment. Apples are brought in from neighboring, family-owned farms. In fact, on their website, Virtue proudly displays the entirety of these 'partner farms'. Through their back-to-basics, old-world approach, Virtue is able to produce some incredibly complex, layered dry and semi-dry ciders.




A look at Virtue's product line might bring on a bit of paralysis-by-choice. In cans, the company offers a brut, a rosé cider, a semi-dry, a Michigan Honey, and a Michigan Cherry infused cider. It's hard to pick a single winner from the pack -- cider flight, anyone?


On top of these standard offerings, Virtue bottles "The Mitten" and "Lapinette". These come in swing-top 500ML bottles, but can also be found on draft in select spots. "The Mitten" is a bourbon-barrel aged cider, finished with a dash of fresh-press apple juice before bottling. Meanwhile, "Lapinette" is Virtue's impression of a French, dry cider. The Lapinette cider is also aged for about a year, though this one gets the French Oak treatment.


All of their ciders aside, there is one newer entry to their line. They call it the "Mezzo Spritz", and it signifies Virtue's apparent interest in the RTD drink world. The Mezzo is a take on the classic Italian spritz (prosecco, sparkling water, and an aperitif). Instead of the traditional spritz, Mezzo features cider, sparkling water, and an array of botanicals. As far as we can tell, this one is a surefire hit for the summer. Mezzo comes in at just 3.5% ABV and only 90 calories -- making it perfectly on-trend. With this hugely varied bevy of options, Virtue defies the claim that ciders are one-note, or even sweet, by nature.


What's more -- it's worth noting that Virtue Cider seems to have no interest in slowing down. Just a few weeks ago, they announced two new (albeit limited release) ciders: the Northcider and the Southcider, in tribute to the city of Chicago. One one hand, you've got the delicately-hopped Northcider at 6.7%. For the South Side counterpart, they've created a sweet, vanilla-tinged cider that comes in at a sessionable 5.5%. Somehow, we tend to think there's no shortage of new coming from the Virtue Cider drawing board.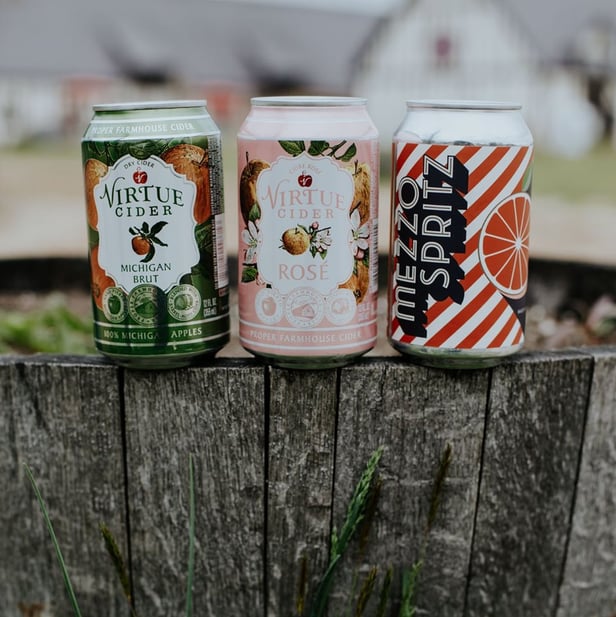 Image courtesy of Virtue Cider's Facebook


Virtue is a brand with a vision. They care about making great ciders, and they skip over the cynical, sugar-dumping strategy that so many other cider makers seem to employ. Virtue makes quality, premium ciders, and the proof is very much in the pudding. So, don't let their recent acquisition by Anheuser-Busch InBev cloud your vision. While they are now under the umbrella of a large company, it seems to us that nothing's changed. They still operate creatively and independently, despite now having a different name on the lease.


We here at Provi love cider. But -- like any discerning customer, we're picky. Really picky. So take it from us when we say that Virtue Cider is making the best cider in America. They balance an absurdly thin line of being both drinkable and complex, offering everything the modern consumer could want. Their drinks shine year-round for us, sure, but are a bit of a no-brainer in the summer. Whether building a cider cocktail, or looking for something besides beer for your menu, all signs point to Virtue Cider.