Alright, well, technically...Old Style was never the king of Chicago. For years, Miller Lite was in fact the top dog of the Windy City. But true to their fighting spirit, Modelo Especial has finally surpassed Miller Lite in Chicago-area dollar sales. There's no shortage of reasons for this change in consumer taste -- premiumization, a Chicago's growing Hispanic population, and general consumer zeitgeist, to name a few. As a toast to Modelo's success, we're going to talk a little about the brand and its place amongst Mexican (and American) brews.
First, though, let's look at some of the numbers behind Modelo Especial's recent milestone. Here, it's worth noting that Miller Lite has still sold more cases of beer in Chicago than Modelo. But, Modelo Especial is priced about 25% higher, which has allowed them to surpass Miller Lite in pure dollar sales. In truth, it's an interesting statistic that speaks to the consumers' willingness to spend more. Premiumization is very real, people. But, that's a topic for another day.
In a 52 week period ending August 11, Modelo Especial clocked $70.5 million in sales. Miller Lite came in a respectable second place at $67.6 million, with Bud Light's $41.28 million tailing significantly. This recent development has been swift and strong. As recently as 2016, Modelo Especial's annual sales were dragging behind Miller Lite by a whopping $20 million. That's a lot of ground covered in a strikingly short amount of time. Good on ya, Modelo. But to pinpoint how exactly Modelo got to the top of the mountain, we need to look at Mexican beer as a whole.



Mexican beer is an interesting genre. Looking at most Mexican brews, it's hard to pinpoint a 'Mexican style' beer. In fact, most of the popular Mexican brews available today take cues from German and Eastern European styles of beer, creating light, pilsner-style offerings. To credit/blame for this, we can look to Austro-German Emperor Maximilian. Mexico spent four years under his rule in the mid-19th century. The man loved his European-style beer so much, he insisted on building breweries in his newfound Mexican home. His affection for Viennese style brews can still be seen today in beers like Negra Modelo and Dos Equis Amber.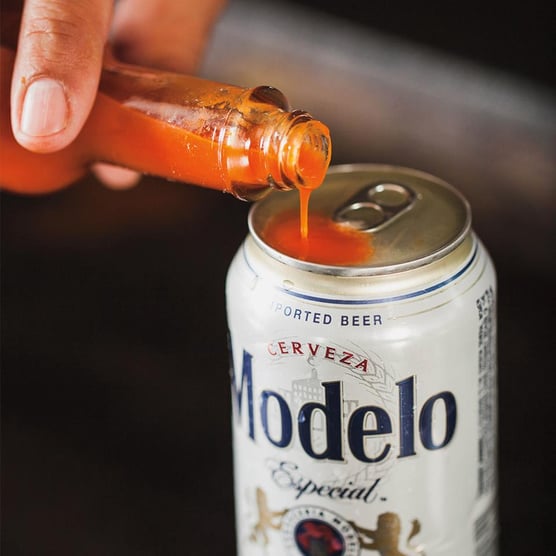 What kind of hot sauce do you think they're using? Image courtesy of Modelo USA


On to Modelo specifically, we can't exactly call the brand's beginnings 'humble'. In 1925, President Plutarco Elias Calles helped businessman Braulio Iriarte found Cervecería Modelo. Modelo Especial was crafted in that same year. For inspiration, the brewery looked to German techniques and styles of beer. The result was a decidedly drinkable, balanced beer that was named "Modelo Especial". That's Spanish for Special Model, as in...modeled after German beer.
In 1936, ownership of the brewery transferred to a man named Pablo Díez Fernández. Over about twenty years, Fernández grew Modelo into the nation's leading brewery. By the time he was finished, Modelo was responsible for over 30% of all beer created in Mexico.
Over the next fifty years, Modelo would change hands a few times, and experience its fair share of ups and downs. While generally experiencing domestic success, Modelo only held one percent of the market abroad for Mexican beers. These struggles continued throughout the difficult 80s and 90s. Even Modelo's domestic sales fell victim to Mexico's economic volatility during these years.
In 1991, though Cervecería Modelo changed its name to Grupo Modelo, and the company went public. Because the company operated almost entirely debt-free, its shares climbed in price, even during an economic recession in Mexico.
Today, Modelo has clearly outgrown its origins. In times when big-beer is struggling to keep up with craft success, Modelo proves to be the exception. Despite a relatively hefty price tag, Modelo's sales have more than doubled since being purchased by Constellation Brands in 2013. This has come largely from a push towards the American market, and specifically the Hispanic subset within that market.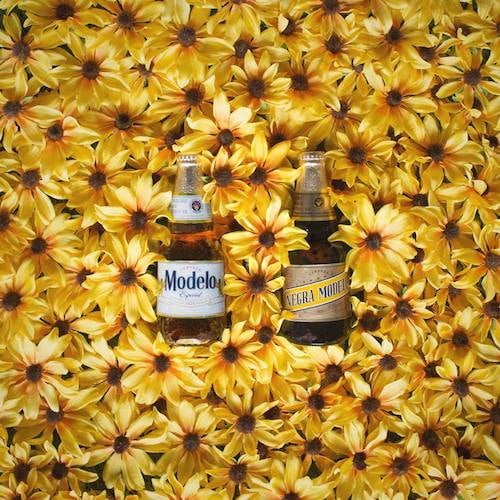 Image courtesy of Modelo USA


Since taking over, Constellation has tripled the marketing budget for Modelo. In 2015, Modelo Especial debuted stateside with a nationwide marketing campaign. This campaign touted the brand as honest and high-quality. As a testament to this brand-forward approach, Modelo Especial has since seen double-digit growth every year since its American debut.
So, what does the future hold for our beloved Modelo? As with any successful company, Modelo looks to be dynamic and evolving for years to come. Seeing the trend of canned, RTD cocktails, Modelo has recently established a line of Especial Cheladas. Greg Gallagher, head of brand marketing for Casa Modelo at Constellation, told the Chicago Tribune:
"You will see more from us in the chelada business because we think there's a lot of growth potential there."
However, Gallagher maintains that overcrowding is something the company needs to overcome. With craft beer taking center-stage, the space allotted for big-brand beers seems to be getting smaller and smaller every day. Alongside this hurdle, Modelo is a constantly growing brand that could be at risk of alienating its core audience. Expansion into non-Hispanic markets has proven beneficial, yes. But the brand needs to remember what got them to the dance -- forget that at your peril, Modelo.
Gallagher is happy to grapple with that issue as well. He also told the Chicago Tribune:
"That's the delicate balance we have to strike, to go after these consumer opportunities but do so in a way that stays really, really true to who we are, and to ensure we do that, we have to constantly be talking to our customers and making sure that they are giving us permission to go the places we think we can go."
At Provi, we consistently lobby for originality and authenticity. While Modelo has certainly long-since abandoned the days of small-scale brewing, they've done well to maintain their integrity. Craft beer enthusiasts tend to look at big-beer with a cocked eyebrow. Rest assured, folks -- Modelo may be big business, but they're one of the good guys.