Fall means different things to different people. To us at Provi (and we suspect many of you), fall means Oktoberfest. Although the official festival takes place in Munich, the global allure of any booze-forward holiday is largely (and understandably) irresistible. And so, every year, millions around the world come together in a timely celebration of fine, fall brews. At the center of the celebration is the Bavarian, autumnal märzen beer, which actually translates to "March Beer".
Love of beer aside, Oktoberfest leaves us scratching our heads. How did a Munich street festival celebrating a March beer turn into a yearly, October phenomenon worldwide? Well, we did some digging, and the answers may come as a surprise. Today, we're going to look at how Oktoberfest came to be, and give you some suggestions on our top-picks for timely Oktoberfest brews.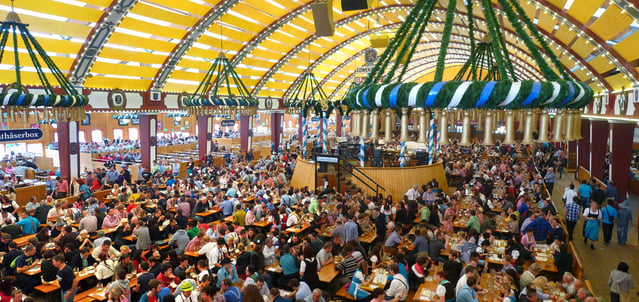 On-site at Germany's massive festival, Oktoberfest


Oktoberfest originated on October 12, 1810. It was on that date that Crown Prince Ludwig married Princess Therese of Sachsen-Hildburghausen. At the time, royal weddings were exclusive, bougie events only attended by the very well-to-do. Ludwig and Therese apparently had enough of that, and decided to have a very public party for their wedding day. Whether they knew what they were getting themselves into, well, that's anyone's guess.
The party lasted for three days, with no shortage of free food and free beer. The days of debauchery and merriment concluded with a royal horse race, providing an extraordinarily high bar for any parties that might ever follow. Regardless, after that kind of a good time, the royal family decided it should be an annual tradition. Seeing as they couldn't get married every year, they pointed to the horse-race for the centerpiece of the mega-party.


Over the course of a couple hundred years, the focus shifted towards the beer and food. Eventually, Oktoberfest roughly arrived at what it is today -- the horse race was dropped, and dedicated beer stands were introduced. On top of that, the märzen style of beer took center-stage.
This brings us to another question -- what in the world is a märzen beer, and what does it have to do with Oktoberfest?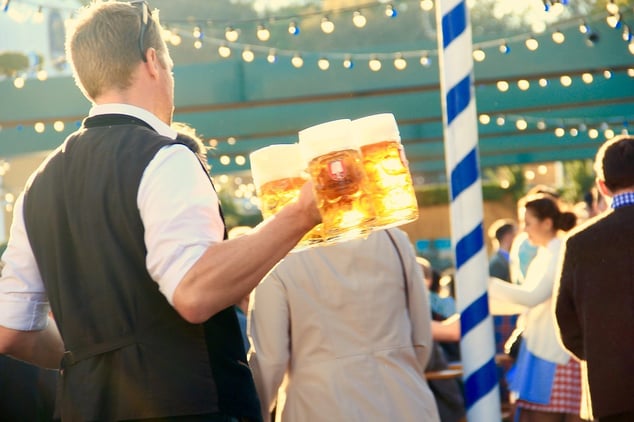 All beer served at Oktoberfest must be from one of Munich's six breweries-- Paulaner, Spaten, Hacker-Pschorr, Augustiner, Hofbrau and Lowenbrau.


Well, the "March beer" was traditionally brewed in the spring, and kept in caves while Germany's summer weather made brewing basically impossible. Then, when October rolled around, Oktoberfest was positioned as a celebration of the season -- and the beer that it brought. Today, märzen-style beer is produced and consumed worldwide. Sifting through them to find our favorites was no small task, but here we've put together some top-picks for your Oktoberfest celebration.
Germans were among the first to settle in Ohio, so it's no surprise that Cleveland's Great Lakes Brewery knows how to make a märzen. At 6.5% ABV, the brew packs a little more punch than many ultra-traditional Oktoberfest beers. Whether that's a good thing or not, well, we suppose that's a case-by-case basis. If your beer program needs some hearty maltiness, this is a go-to for Oktoberfest. To go along with the bold malt flavor, this brew is packed with autumnal spices to get you going this fall. We're not the only ones crowning this beer, either -- it's a four-time medal winner at the World Beer Championship.
Where märzens are concerned, it doesn't get more authentic than this. Paulaner is a German brewery, founded in 1634 by a group of friars. To this day, Paulaner is one of only six breweries that have passed Munich's ultra-strict beer purity laws, and is thus served at Oktoberfest in the city. If you want to bring the real deal Oktoberfest to your bar, this should be considered your go-to. With a great balance between malty, toffee flavors and a bready sweetness, it's hard to go wrong with this märzen.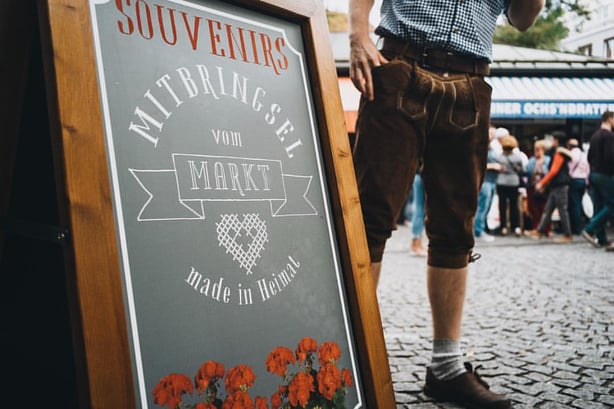 Festival-goers typically don traditional garb at Oktoberfest, such as Lederhosen.


Revolution Brewing Oktoberfest
It's no secret that Revolution Brewing is one of our favorites. Not only do they make this excellent Oktoberfest beer (more on that in a second), but they also conduct a not-so-mini Oktoberfest festival of their own each year. On September 27th and 28th, Revolution Brewing brings Munich to Milwaukee Ave in Chicago. With live music and plenty of brews abound, it's hard to justify missing the party. As for their Oktoberfest beer -- it's fantastic. Toasty and malty at once, the beer pours and drinks with remarkable smoothness. Pleasantly sweet, this 5.7% ABV brew is sure to get you in the Oktoberfest spirit.
Hacker-Pschorr Oktoberfest Märzen
Another ultra-authentic Oktoberfest brew, the Hacker-Pschorr märzen is made according to a centuries-old recipe. And not only is that recipe quite old, but they still ensure that the brew is produced in accordance with the Bavarian Purity Laws of 1516. If you want a step back in time, this is the brew for you. This malty, bready brew is a great way to bring the authentic, Bavarian Oktoberfest to your bar. Top marks from us.
This märzen beer is a remarkably drinkable brew. Made in Colorado, the Odell Oktoberfest is a drinkable take on the traditional märzen. It offers just as much flavor as any of the others on our list, while being enjoyably sessionable. The Odell Oktoberfest is brewed with a toasty, sweet Munich malt that gives the beer a dark, bready flavor. Although not as traditional as some of the other entries on our list, the Odell Oktoberfest has more than earned its spot.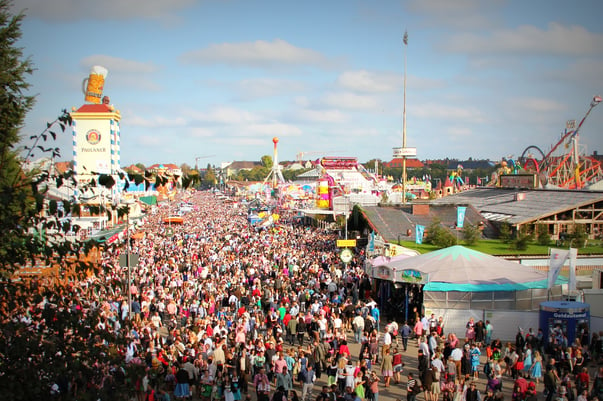 If you ever make it to Oktoberfest, expect to wade through large crowds.


Another modern entrant, yes, but we're suckers for Chicago-made brews. Goose Island produces some of our favorite beers year-round, and these fall months are no exception. The Goose Island Fest Bier is clean and crisp, not quite as dark and heavy as some of the other beers on our list. Its malty qualities instead take the form of a rye-bread sweetness on the palate. With a unique, mild bitterness, Fest Bier provides a fresh, hoppy take on the traditional märzen. For us, it's another winner from Goose Island.