Canned cocktails. What a time to be alive.
Once upon a time, the concept of canned alcohol brought to mind little more than Schlitz and PBR. That's decidedly no longer the case, as craft beer has moved almost entirely to cans, and wine is starting to explore canned options as well. Cans make for both an easier-shipped and stored product, benefiting everyone along the supply chain. The can preserves freshness, and has no ill effects on the liquid inside. Given all this, it's perhaps no surprise that canned cocktails are starting to thrive. Based on data from Provi users, the canned cocktail market share has quadrupled since Q1 of 2018. And with World Cocktail Day quickly approaching, we thought it would be appropriate to take a deep dive into this new and rapidly growing genre of cocktail.

The idea of a ready-to-drink (RTD) cocktail is not particularly new.

In fact, RTD cocktails have been around in America since the late 1800's. During pre-prohibition days, a drink called the Rock and Rye was an American standard. Barkeeps would add a generous few pieces of rock candy to a choice bottle of rye whiskey. Often, some kind of citrus rind would be included in the mix. The simple concoction would sit on the shelf for a few days, and then be consumed neat. We'd be remiss to point out the similarities to the classic Old Fashioned. In the early 1900s, some savvy folks decided to start bottling and selling the product independently (note: more on this later).

In slightly more recent years, a slew of neon-colored, sugary, malt- based 'cocktails' could be found at your local convenience store. For the purposes of our own well-being, we are going to leave it at that. But in 2011, rum makers Gosling created a canned Dark n' Stormy. While it didn't exactly catch on like wildfire, the concept has been a quiet success for the company. In a similar fashion, bars have been batching cocktails and experimenting with on-tap mixed drinks for years now. Taking this RTD cocktail and putting it in a can seems like a relatively logical next step.

For a long time, however, the consumer may not have agreed. A Mintel study found that the canned cocktail had some brand issues. Consumers found RTD cocktail market to be too sickly sweet, too artificial, and just generally of a low quality. The aforementioned malt beverages were likely to blame for this large-scale brand perception. However, a few mighty fine companies are doing well to change things by rolling out canned cocktails made with fresh, natural, and straightforward ingredients.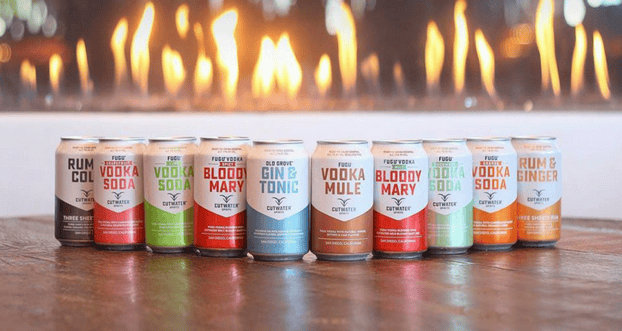 One of our current canned cocktail favorites is Cutwater Spirits. Based in San Diego, Cutwater is actually an offshoot of popular craft brewery Ballast Point. Although you may be unfamiliar with the canned cocktails, you likely have enjoyed a few of Ballast Point's offerings. Having distilling and canning experience, it made sense for the brewery to enter into what they saw as a growing market. Now, Cutwater offers over a dozen canned cocktails, ranging from cold-brewed Horchata to proper Bloody Marys. The brand distributes to 34 different states, and reported a staggering 203 percent growth over a recent twelve month period. With those numbers in mind, perhaps it's no surprise that Anheuser-Busch InBev announced plans to buy them outright earlier this year.

Some of the little guys are still keeping to themselves, though. Sacramento-based company Can-Can Cocktails produces signature cocktails, and was in fact founded by a working bartender. The company's mission is not to create passable, standard cocktails, but to craft delightfully surprising, fresh cocktails that stand up to anything you'd get in a bar. While some canned cocktails market themselves on convenience and familiarity (now you can drink a gin and tonic anywhere!), Can-Can is taking the innovative approach of creating something that the consumer can't make at home.
Browse Canned Cocktails on Provi

Earlier, we promised to talk more about the Rock and Rye. In short -- it's back. If you're looking to have an exceptionally good time, we'd point towards Hochstadter's Slow and Low. The RTD take on the old- timey favorite comes in bottles and cans, boasting a whopping 85 proof. Hochstadter's is a delightfully simple concoction, not straying very far at all from the original American recipe. Available in large- mouth bottles, as well as 100ml cans, Hochstadter's Slow and Low is finding nationwide success. The company's tight, cohesive brand produces merchandise and does promotional tours alongside their spirit offerings. For us, it's a win on all fronts.

All that said -- we know what you're thinking.

You're a bartender. What do you need a RTD cocktail for?

Well, a canned cocktail might not seem so out-of-place on a menu anymore. Sure, putting a canned Gin and Tonic on your menu might raise some eyebrows...But an original product like Hochstadter's looks great on the shelf, and is a great option to extend your whiskey program without bending over backwards.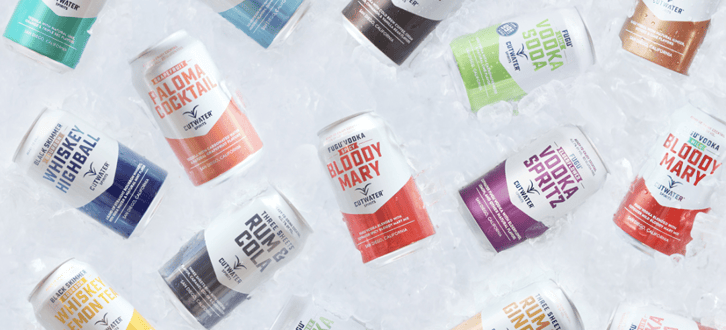 Image courtesy of Cutwater

Alternatively, not all bars or restaurants take a craft-cocktail focus. A more relaxed, casual restaurant might not be remiss to look at some RTD options for their cocktail program. Supporting a great cocktail menu is tough, and sometimes not feasible -- it requires a lot of overhead, and often time-intensive staff training. On top of that, keeping the necessary ingredients in stock might not be realistic. If the vibe is more 'pizza and beer', a fresh, unique cocktail may have seemed unlikely in the past. But with this new crop of fresh, thoughtfully-made RTD cocktails, that might be changing.

It's no secret that hard alcohol programs are a huge money-maker for restaurants and bars. Perhaps with these ready-to-drink options, more of us can get in on that action.

And even if you are a cocktail-focused bar, the canned option still may have a spot within your operation. Using the RTD beverage as a base or another mixing ingredient can open up avenues of otherwise unfeasible drinks. All of the sudden, a moscow mule can be an ingredient in another cocktail, for example. Get weird.

Whatever type of operation you're running, we think there's likely a home for the canned cocktail. The concept of a ready-to-drink cocktail is not a particularly new one, but the idea of a good RTD cocktail...well, it's something we've been missing. We'd encourage you to sample a few options, and see what fits best in your bar. There's no shortage of companies or products out there in 2019, and the wave only seems to be growing.